The discipline of location intelligence has been thrown into the limelight by the emergence of COVID-19. It is a truism to say that everything happens somewhere, however when that somewhere is a threat to your life, then the concept of "where" is most certainly front of mind. In addition, the impact of "where" on trade, economic sustainability, and social deprivation, is also immense under the constraints imposed by COVID-19.
Whilst it seems that countries are moving through the worst of the health conditions brought on by the pandemic, the social and economic impacts will be felt for a much longer time. Organisations will therefore need to be well prepared in terms of 1) business continuity, 2) stakeholder engagement, and 3) growth strategies, under conditions that have not been faced for over 100 years.
Consider the following circumstances which are all intimately connected to location:
Mortality risk
Incidence of infections and recoveries
"Safe" areas to relax isolation, and re-start personal attendance and activity
Customers and stakeholders undertaking remote transactions
Supply logistics for home deliveries
Employee travel distances and routes to work and client premises
People movement and density generally
Available employment
Health support services
Social support services
The ability to quickly and easily see what is happening where, at the most granular level, is key to being able to address the three key areas of continuity, engagement, and growth. Such insight is available from location intelligence solution providers who have been focused on "where" for many years. These solutions are typified by geospatial data visualisations which tell a compelling story often in a single picture such as the ones below. The first is a map of spend on groceries by home location in parts of Sydney. Such simple information can greatly assist stock planning, promotions, and supply logistics.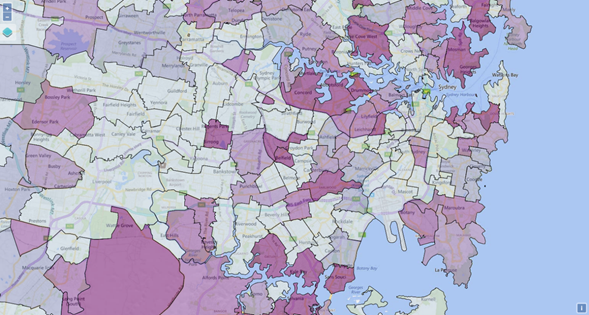 However, when combined with the following image showing COVID-19 mortality risk areas in Sydney, a business may want to revise their engagement and business continuity strategy for particular areas.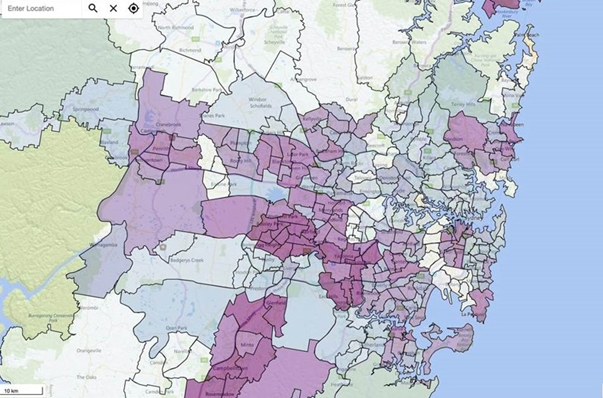 These types of geospatial visualisations and associated data analytics provide decision support validation for risk management and business continuity. Further, the granularity can be down to individual address level depending on the type of information required for such data-driven decision-making. All this can be done while protecting the privacy of citizens.
Business Continuity Management
Various systems exist to deliver corporate security and resilience. Being ready for the unexpected by having a framework to protect critical business functions is a standard operating procedure for many corporations. The practice is so widespread that the International Organisation for Standardisation published ISO 22301, the first of a series of ISO standards and technical specifications on business continuity management around disruptive incidents. The second edition of ISO 22301 was published in 2019 and covers various topics relating to location intelligence.
Updating requirements, specifications and standards around virus management has now become more critical. In maintaining the currency of management practices, there's an opportunity to leverage best practices by utilising location intelligence like never before.
Customer Engagement
The pandemic has forced businesses to carefully balance how to generate sales during a period of extreme economic hardship while respecting the threats to life and livelihood. The key to managing such tensions during a crisis such as a pandemic is to strengthen relationships with locals when social distancing has minimised personal interactions. One key to that strengthening is to better understand cultural and economic conditions specific to the known location.
Leading through turbulent times is critical for every industry, none more so than retail. There are various programs available right now that help organisations use location intelligence to adapt to new trading conditions.
On Tuesday 19th May 2020, the National Retailers Association, for example, is offering a Town Hall Webinar with Senator the Hon Michaelia Cash, Minister for Employment, Skills, Small and Family Business and NRA CEO Dominique Lamb. Similar educational programs are also offered by other institutions, such as the Queensland University of Technology executive program.
Business Growth
The significance of "where" has implications for business not just in terms of managing business continuity and averting a customer engagement crisis, it also has real implications for strategic positioning that companies need to chart through these difficult times.
Various consultancies, like our partners PWC, publish extensively to help companies take "where" into full consideration when navigating these unprecedented times. Some of their thought pieces around planning business growth in a COVID-19 era include:
Where to From Here?
COVID-19 has elevated the concept of "where" and solution providers of the where component such as Virus Strategy, Data Resilience, and Mapcite are leading the charge to address this business continuity challenge.
Author: Stephen Walker, GM Centre of Excellence for Geospatial in Australia
Editor: Claude Drulik, Marketing & Communications Manager, Mapcite